Quality Assurance
We provide exceptional quality assurance for SCOs, assessments, art, animations, source code, executables, and paper based products.
Error Checking Math Solutions & Learning Objects
We provide error-checking services, and cold-solving, of math content for both digital and print products. This includes things like art, assessment solutions and animations. Essentially, we look at all math content to make sure it's correct and makes sense to the end user.
Our QA team includes subject matter experts (SMEs) and project managers with strong math backgrounds. This combination of experience and expertise ensures that the client has the cleanest possible product.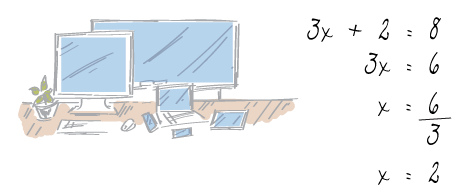 Software executables
Whether we developed the code for you or you just need a second pair of eyes on it, we have the expertise to assure the quality of your software.
We author test cases from the software's original documentation (regardless of who wrote it) and test against that. This ensures that the application matches the material that has been described in its technical specification.
If you are developing your software product from scratch, consider using us as a turnkey solution. We also offer services for documenting, programming, designing, and developing content for software products.
Source code
Do you have software built by another company? Are you wondering whether the code you have is up to current standards, or whether it can be repurposed or converted to another language for another platform? We can analyze the code for you and answer any questions you may have.