Graphic Design
Our in-house designers work hard to keep on the cutting edge of current trends in the world of visual design. We do tech art, creative art, layouts and UI elements.
We can use your company's existing design
Need new design elements that fit in with your company's brand style? We have experience creating graphics and user interface (UI) elements that follow a company's brand guidelines.
If you use our programming services, we can design the look and feel of your software for you, or you can send us graphics and UI elements from your own graphic designers and we will incorporate them into the software.
Or we can work with you to develop a new design
Looking for a modern design for your software product? Our graphic designers have the talent and experience to match your style.
If you hire us to design the look and feel of your software, you will be able to speak directly to the graphic designer working on your project. The designer will show you art samples along the way so you can be sure that what you want is what you'll get.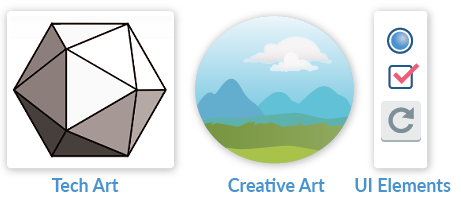 A turnkey solution
If you are developing your software product from scratch, consider using us as a turnkey solution! We also offer services for documenting, programming, testing, and developing content for software products.